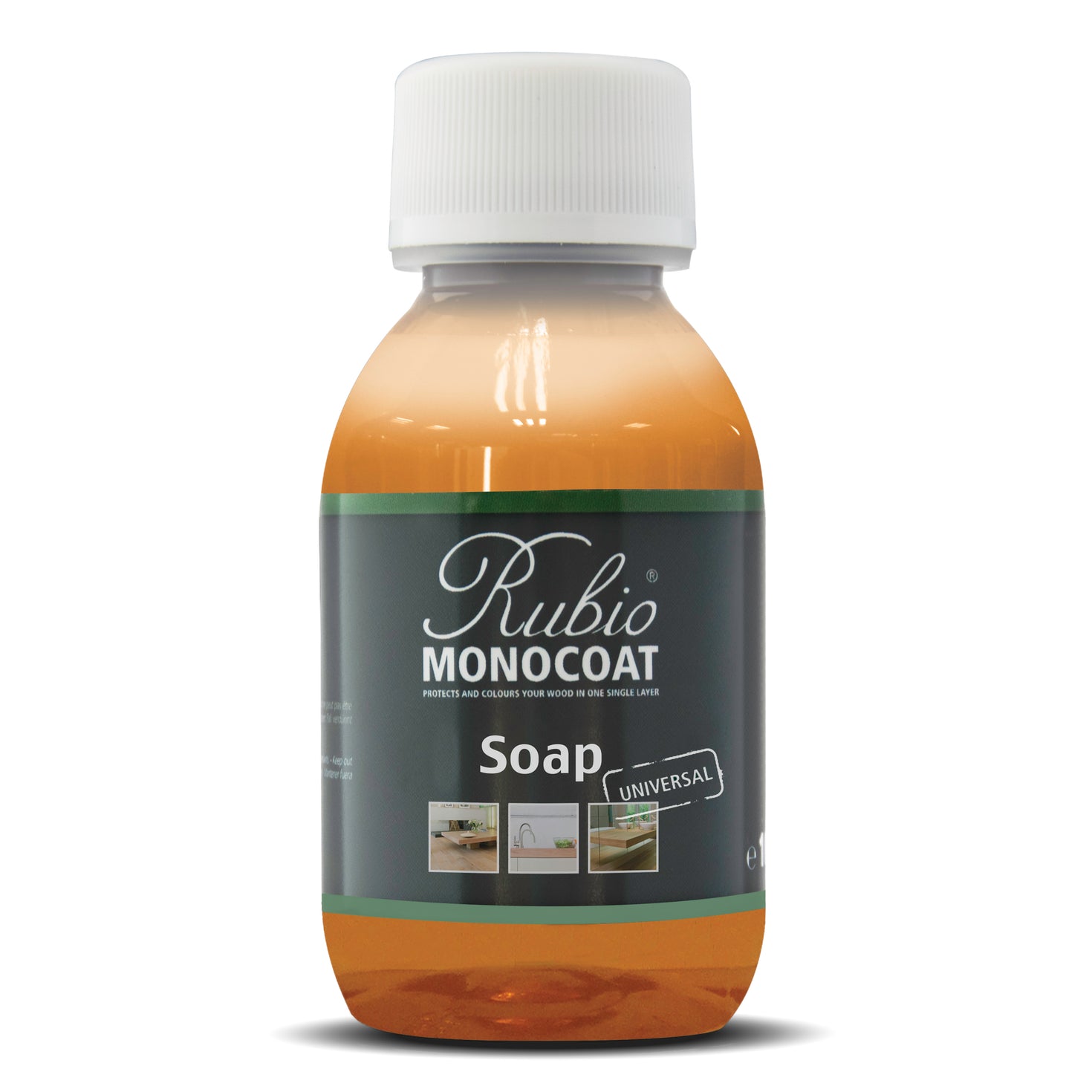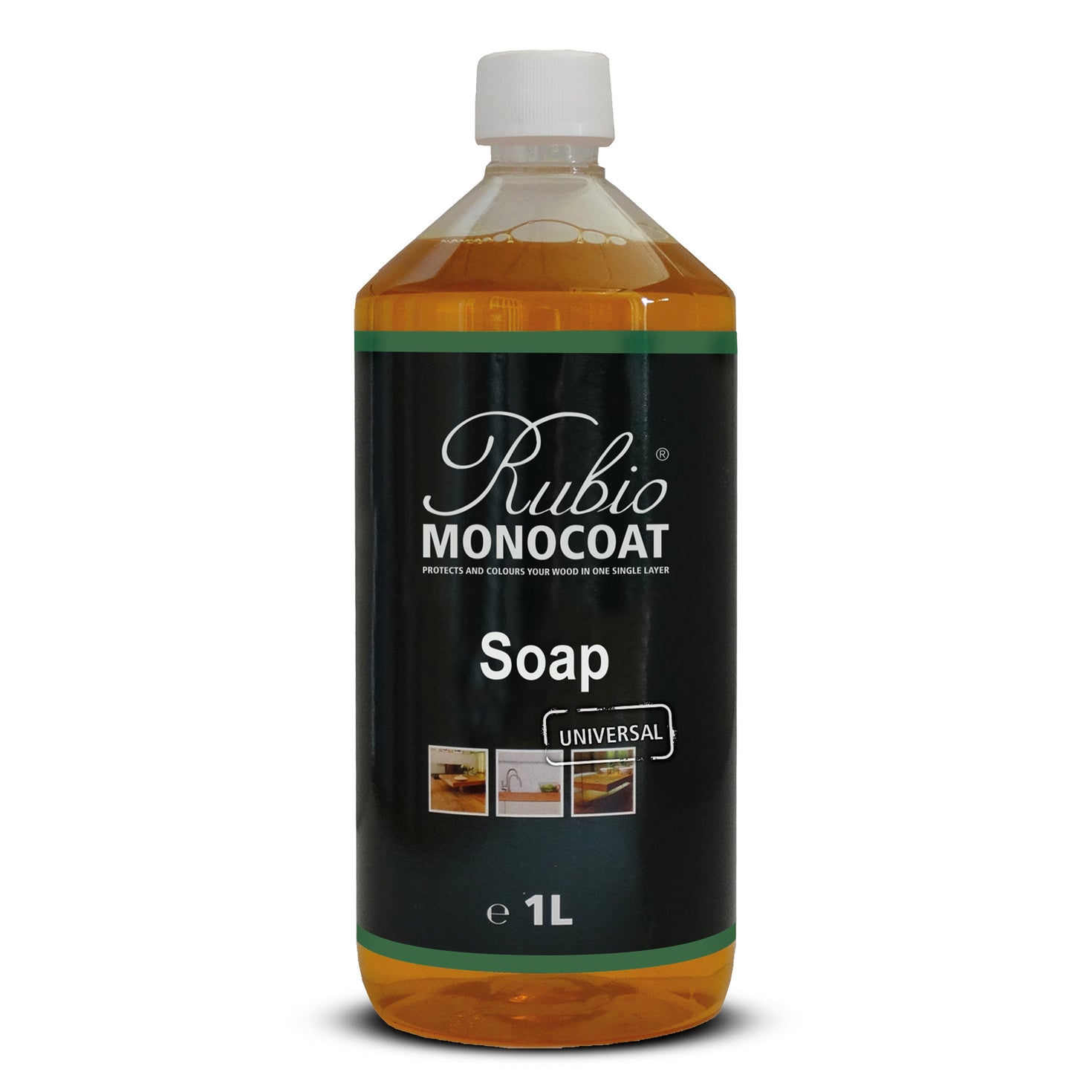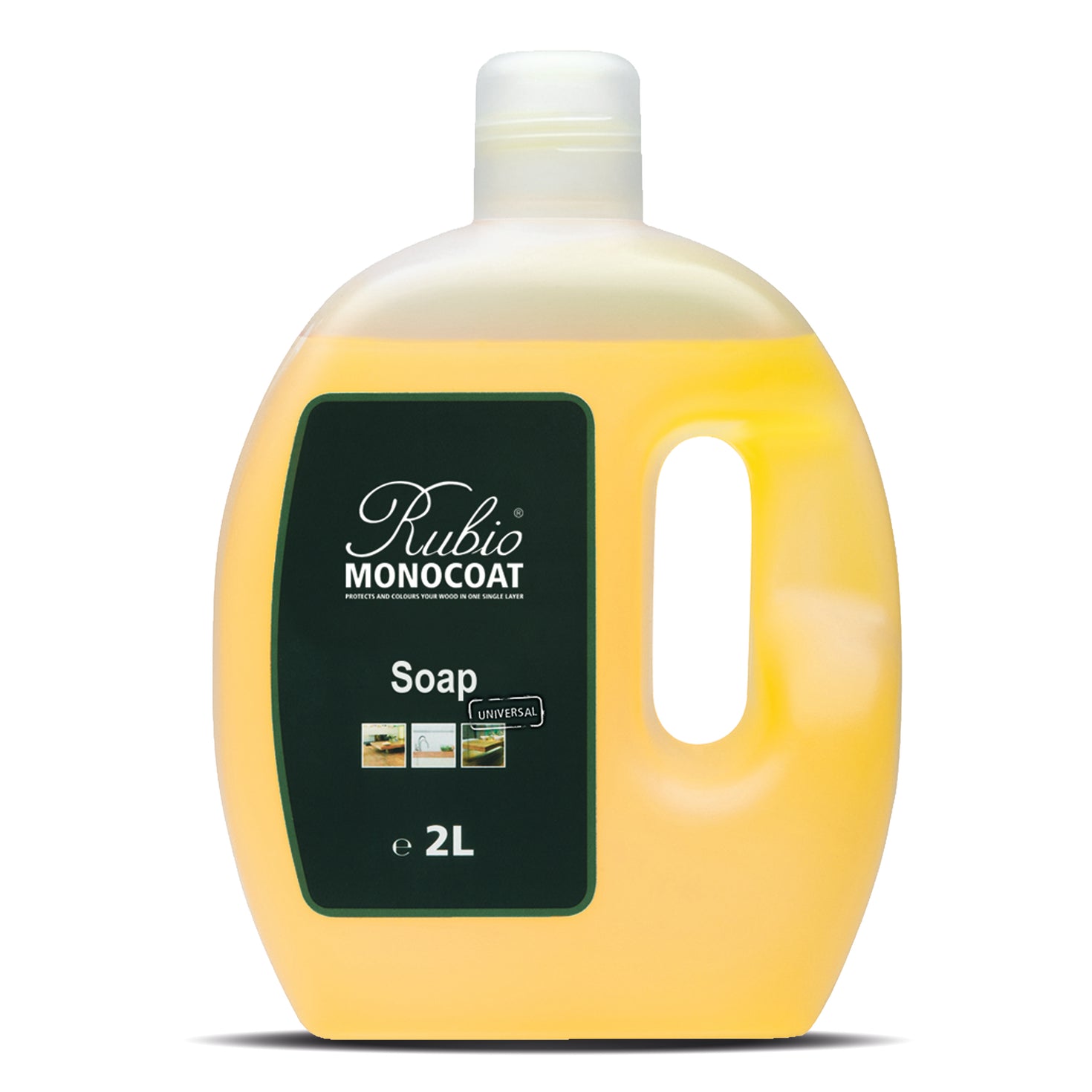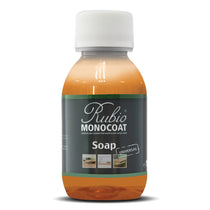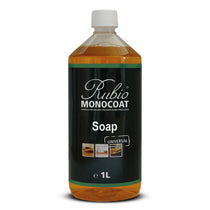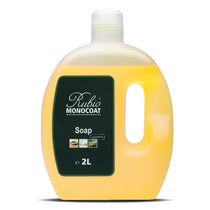 ADDITIONAL
HOW TO APPLY
Video
TECHNICAL
MAINTENANCE
CUSTOMER REVIEWS
ADDITIONAL
Rubio Monocoat Soap is available in a ready mixed spray (Surface Care Spray) for convenient spot cleaning, in 100ml, 1 liter, or 2 liters, concentrate formula. 
Mixing Ratio:  The concentrate is mixed with water 100:1, 1.3 oz. per gallon. 1 liter will make 161 refills of Surface Care Spray.
HOW TO APPLY
Vacuum the surface. 
Pour 100 ml of RMC Soap in a bucket with 10 L clear water. 
Clean the surface with a mop. 
Allow to dry: +/- 15 minutes. 
Important: Do not leave any water on the floor surface, a damp-clean is sufficient. 
Do not walk on the floor until it is completely dry. 
Tip:
The best working method is with two buckets: one with the soap mixture and one with clean water to rinse the dirt out of the mop.

Storage:
The product can be stored for up to 12 months. Store in dry conditions and in the original packaging.  Do not allow to freeze.
Download Application Instructions and TDS (EN)
TECHNICAL
Summarized specifications, please read TDS before using product.

Dilutable: With Water
Shelf Life: 12 months
Warning: Do not allow to freeze
MAINTENANCE
Floors should be cleaned using Rubio Monocoat Soap or Surface Care Spray on an as-needed basis. Higher traffic areas should be cleaned more frequently and will likely require more frequent maintenance.
It is recommended to never flood a hardwood floor with liquid. In addition, it is crucial to never use cleaners from other manufacturers. Most cleaners use solvents or have caustic qualities that may strip the protective finish of Rubio Monocoat oil.
Because Rubio Monocoat oil is made of natural ingredients and no toxic artificial hardeners are used, occasional maintenance is important the prolong the durability and life of the finish.
Depending on traffic, climate, and care, maintenance using Rubio Monocoat Renew is typically necessary within 2-6 years of initial finish.
When oiled surface begins to feel too dry or rough, finish has worn down due to heavy traffic, or liquids fail to bead up on finished surface, Renew can be used to rejuvenate the finish. Renew can be used on entire oil-finished surfaces or individual areas needing refreshing due to heavy use.
Simply apply Renew to the area, leave to react for 3-5 min, and wipe dry, being sure to remove all excess. Do not walk on or use the area for 4-6 hrs, letting it dry before light use.
Can I use other manufacturers' cleaners or common retail cleaners?
Using only Rubio Monocoat Surface Care Spray or Rubio Monocoat Soap is highly recommended. Most cleaners have caustic qualities or use solvents in their formula, which may strip the protective properties of the finish.
How do I fix spots or scratches in my oil finish?
We generally recommend four products to fix spots and scratches, depending on what caused them:
Rubio Monocoat Surface Care Spray
Rubio Monocoat Refresh Eco
Rubio Monocoat Renew
Applying additional Rubio Monocoat Oil Plus 2C to scratch in finish.
Please contact us for assistance in finding the proper method to fix spots or scratches in finish. We'd be glad to help.
How often should my finished wood floors be cleaned?
Clean floors on an as-needed basis (Weekly, bimonthly, etc). This depends on the amount of use, with high-traffic floors and areas needing more regular cleaning and maintenance. Using Rubio Monocoat Surface Care Spray or Soap is the best practice as other cleaners may have caustic qualities or use solvents that may damage the finish or add chemicals during the cleaning process.
How do I clean Rubio Monocoat finished/treated floors?
Clean as you would normally clean your floors using Surface Care Spray (weekly, bimonthly, etc). Vacuuming or dry mopping with a microfiber mop is also effective in your cleaning regimen. Never use other cleaners, Surface Care Spray is the only cleaner you should use on your Rubio Monocoat floor.