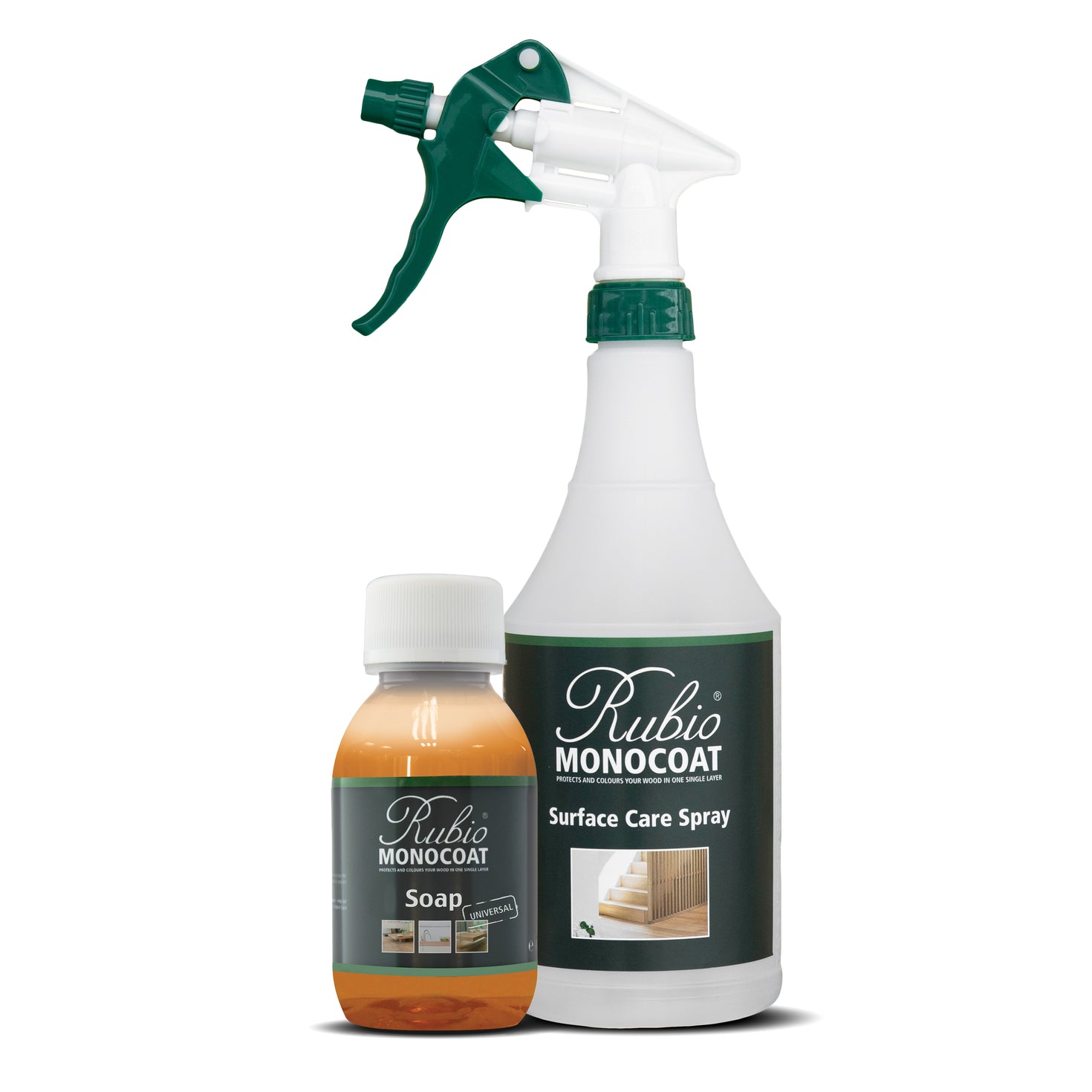 Hot
New
In stock
Out stock
Rubio Monocoat Surface Care Spray Kit
Rubio Monocoat Surface Care is the convenient ready-to-use version of Rubio Monocoat Universal Soap. Surface Care is to be used for general cleaning of Rubio Monocoat finished surfaces.  It can be used to remove stains or stubborn marks on your wood surfaces. 
Surface Cleaner (Surface Care Spray) Kit contains:
1 - 750ml Spray Bottle
1 - 100ml Soap (Makes 13 Surface Care Spray Bottles)
Spend $49.00 to Free Shipping
ADDITIONAL
HOW TO APPLY
Video
TECHNICAL
MAINTENANCE
CUSTOMER REVIEWS
ADDITIONAL
Surface Care Spray is ideal for weekly or monthly care of surfaces finished with Rubio Monocoat as well as convenient spot cleaning, in 100ml, 1 liter, or 2 liters, concentrate formula. 
Mixing Ratio:  The concentrate is mixed with water 100:1, 1.3 oz. per gallon. 1 liter will make 161 refills of Surface Care Spray.
TECHNICAL
Summarized specifications, please read TDS before using product.
Shelf Life: 12 months
Warning: Do not allow to freeze
MAINTENANCE
Floors should be cleaned using Rubio Monocoat Soap or Surface Care Spray on an as-needed basis. Higher traffic areas should be cleaned more frequently and will likely require more frequent maintenance.
It is recommended to never flood a hardwood floor with liquid. In addition, it is crucial to never use cleaners from other manufacturers. Most cleaners use solvents or have caustic qualities that may strip the protective finish of Rubio Monocoat oil.
Because Rubio Monocoat oil is made of natural ingredients and no toxic artificial hardeners are used, occasional maintenance is important the prolong the durability and life of the finish.
Depending on traffic, climate, and care, maintenance using Rubio Monocoat Renew is typically necessary within 2-6 years of initial finish.
When oiled surface begins to feel too dry or rough, finish has worn down due to heavy traffic, or liquids fail to bead up on finished surface, Renew can be used to rejuvenate the finish. Renew can be used on entire oil-finished surfaces or individual areas needing refreshing due to heavy use.
Simply apply Renew to the area, leave to react for 3-5 min, and wipe dry, being sure to remove all excess. Do not walk on or use the area for 4-6 hrs, letting it dry before light use.
Care and Maintenance Brochure (EN)