5 Steps To Get Your Deck Ready For Fall
Posted by SPECIAL HARDWOOD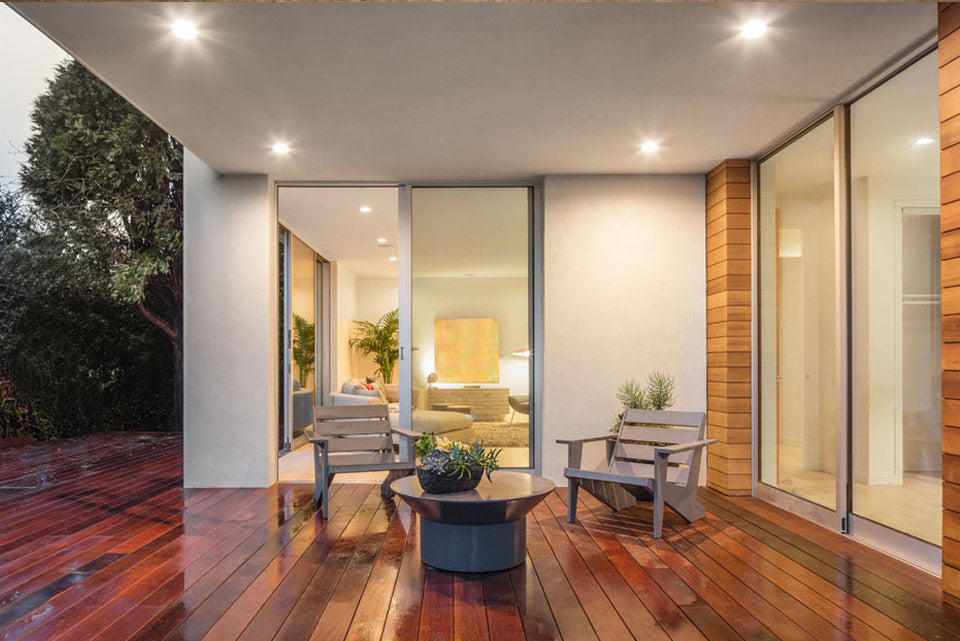 How To Get Your Deck Ready For Fall
We hope you've been able to enjoy many long, relaxing summer days and nights on your deck. With fall right around the corner, now is the time to prepare your deck for seasonal change and colder weather. Staying on top of upkeep and maintenance will not only keep your deck safe and beautiful for the long term, it will also make spring prep and cleaning much easier.

We've put together five important and easy steps to help you get your deck ready for fall.
1.Prepare Surrounding Area
Clear surrounding area of any trees or bushes. Keeping growth at least 12 in. away from your deck will reduce risk of mold, mildew, and moss as well as minimize chances of falling tree limbs damaging the deck.

Roots from trees or large bushes can also cause damage to your deck or foundation and should always be considered when taking care of your yard.
2. Clean Deck
Keeping your deck clean is also very important if you wish to avoid damage to the wood and overall integrity of your deck. Consistent deep cleaning, especially between seasons, will ensure your deck stays beautiful and safe for years to come.

Contrary to popular belief, you should never use a pressure washer on your deck. While it may seem like a quick and easy solution, a pressure washer will ultimately damage your finish and the deck itself.

A simple deck brush and bleach free cleaner will effectively remove dirt, grime, mold, mildew, rust, and stains from the surface.

The only dead leaves in your yard should be fall leaves, which is why we recommend an eco-friendly cleaning solution.  Rubio Monocoat Exterior Cleaner effectively cleans and protects your deck and will not damage or kill plants with harmful chemicals like most common cleaning solutions.

Be sure to keep your deck clean of leaves and debris throughout fall and winter to avoid damage and a difficult spring-cleaning. Don't forget to move and clean under large items and furniture on your deck. Consider storing unused deck furniture, grills, etc. during the fall and winter months for easier maintenance.
3. Apply or Reapply A Protective Coating
It's crucial to maintain a seal on your deck that protects from grime, moisture, sun damage, and general wear. Naturally, over time your finish will degrade or need maintenance, but keeping up with your deck's finish doesn't have to be hard.

Unlike many finishes/sealants, Rubio Monocoat's eco-friendly  Exterior Oil can be applied as needed after the initial coat. This means no harmful chemicals, labor intensive sanding, or power tools needed when it's time to apply a new finish.

Simply give the deck a thorough clean with our Exterior Cleaner and a deck brush and apply Exterior Oil directly to previously finished wood (will not work with other brands of oil).

Did we mention, Rubio Monocoat Exterior Oil is available in 22 unique colors? This means your deck will not only be protected from the elements, it will stay vibrant through the fall and winter months.
4. Inspect Wood and Hardware
The structural integrity of your deck is vital to having a safe, lasting, and beautiful outdoor space. Much like a car or your home, consistent maintenance is key.

First, inspect all wood for rot and water damage and replace any damaged portions. Next, you should check the hardware on all boards, stairs, railing posts and balusters for looseness, corrosion, and rust.

Because wood can shrink and expand, it's likely connections will become loose over time, especially during the temperature and humidity changes between the fall and summer months.

For looseness, inspect railing and stairs for wiggling and tighten hardware to the posts or framing where they are attached. If nails have become loose, gently tap them back in and consider replacing with screws. Any rusty or corroded hardware should be replaced to maintain safety and proper tension.

If any wood or hardware needs to be replaced, we recommend contacting a professional for repairs.
5. Inspect Area Underneath Deck
Many people use the space underneath their deck for storage. While convenient, this will inevitably lead to an accumulation of leaves, moisture, and rodents/pests, especially during the fall and winter months.

Naturally, critters will be seeking shelter from the cold and safe spaces to hibernate/nest. Be sure to inspect regularly and keep area clean and free of clutter to help avoid this issue.

Lastly, proper drainage is also very important to the safety and longevity of your deck. Adding gravel beneath a raised or ground-level deck is an easy and economical solution in a majority of cases.

Be sure to check our  Oil Application FAQs if you have any questions regarding Rubio Monocoat Exterior Oil or any of our interior oil products.
Have a nice fall!